People who refuse to sell their properties are called holdouts.
Eminent domain
(
wiki
) generally only comes into play when the government wants private property for public use (
though there have been some exceptions
). If it's a private development that wants your place and you refuse to sell, there's often not much they can do.
Edith Macefield's Seattle house—sandwiched in the middle of a shopping mall
Around 2005, a Seattle neighborhood called Ballard started to see unprecedented growth. Condominiums and apartment buildings were sprouting up all over in a community which had previously been made up of mostly single family homes and small businesses. Around this time, developers offered an elderly woman named Edith Macefield $750,000 dollars for her small house, which was appraised at around $120,000. They wanted to build a shopping mall on the block where Macefield had lived for the last 50 years.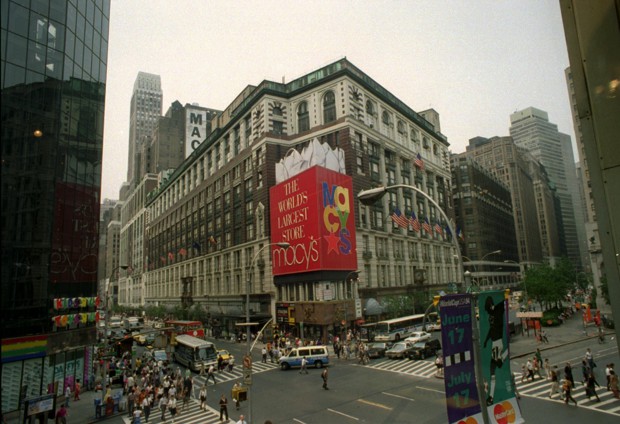 The Macy's shopping bag on 34th and Broadway in New York City hides a holdout building
If you look closely at the corner of 34th and Broadway in New York City, you might notice something a little off. Macy's, the ginormous department store that has taken up an entire city block there since 1902, does not form a complete rectangle. Instead, the retail behemoth has a corner notch in which a narrow, five-story building sits.
The odd setup goes back to a 19th-century competition between Rowland H. Macy and a rival, Henry Siegel, a partner in Siegel-Cooper, a bygone store situated between 18th and 19th streets on Sixth Avenue. In the 1890s, Macy's, Rowland Macy began to acquire the land his store now occupies, but before he could purchase the small corner lot at 34th and Broadway, Siegel bought it. The story goes that Siegel hoped he could exchange the sale of it for a lease of the old Macy's location. Macy refused, and Siegel eventually sold the building to someone else.
Though Macy's has never owned the holdout, it has
advertised on its exterior since the 1940s
. A billboard made to look like a huge Macy's shopping bag is currently wrapped around the narrow structure, declaring Macy's "the world's largest store."
The owner of this tiny home refused to sell to developers eyeing the block of Massachusetts Avenue between Fourth and Fifth streets NW in Washington, D.C. in the 2000s.
This four-story townhouse sits across Bloomingdale's, protruding from the side of a 31-story office tower on East 60th Street near Lexington Avenue. A memorial to one of New York City's best-known holdout battles, the former townhouse had been converted to five rent-stabilized apartment units by the 1980s.
When the developers began construction, four of the five tenants moved out. The fifth, Jean Herman, refused. She believed the developers had a responsibility to find her a suitable replacement, a new apartment that had both the neighborhood appeal and affordability of East 60th St. The developers, unable to meet her request, decided to build around the townhouse, even shaving off the fifth floor, above Ms. Herman's unit.
Drivers cruising along a highway in Wenling, China, had to slow down and drive around one heck of an unusual roadblock: the
five-story home of duck farmer Luo Baogen
, the sole holdout from a neighborhood that was demolished to make way for the new thoroughfare. When Luo refused developers' offers, they simply built around him, assuming that being in the middle of a construction zone and later, a highway would drive him out. In the end, it was all the media attention that did it.